Bryan Bowers – For nearly three decades, Bryan Bowers has been to the autoharp what Earl Scruggs was to the five-string banjo. He presents instrumental virtuosity combined with warmth, eloquence, expression and professionalism. From his rather unglamorous beginning as a street singer, Bryan Bowers has become a major artist on the traditional music circuit. He has redefined the autoharp and is also well known as a singer-songwriter. Bryan has a dynamic outgoing personality and an uncanny ability to enchant a crowd in practically any situation. His towering six foot four inch frame can be wild and zany on stage while playing a song like Dixie' and five minutes later he can have the same audience singing Will The Circle Be Unbroken' in quiet reverence and delight. Bryan's creativity and talent have won him induction into Frets Magazine's First Gallery of the Greats after five years of winning the stringed instrument, open category of the magazine's readers' poll. This distinction put Bowers alongside other luminaries, such as Chet Atkins, David Grisman, Stephan Grappelli, Itzhak Perlman, Tony Rice, Rob Wasserman and Mark O'Connor, recognized for their personal accomplishments. In 1993, Bryan was inducted into the Autoharp Hall of Fame to stand only with Maybelle Carter, Kilby Snow, and Sara Carter.
Geoff Goodhue took up violin at age 5 and went on to graduate from Ohio University in 2004 with a B.F.A. in Percussion Performance.  Now living in New Hampshire, Geoff sings and plays mandolin with Beg, Steal or Borrowwho performed at the 2017 Grey Fox Festival.  He also serves as drummer for the Vermont Vaudeville house band. Geoff's family outfit, The Goodhues Band, was featured at the 2016 Mountain Laurel Autoharp Gathering. As a member of Athens Ohio's Realbilly Jive, Geoff recorded drums on J.D. Hutchison's You and the World Outside, released on Howdy Skies Records last September with Tim O'Brien.  The band performed on Mountain Stage last January.
Danny Knicely is a multi-talented musician and music producer from the Shenandoah Valley of Virginia. He is constantly active, performing and recording his own music and working with other musicians and dancers. As a multi-instrumentalist, Danny has won many awards for his mandolin, guitar, and fiddle expertise, including first place in the mandolin contest at the prestigious Telluride Bluegrass Festival.  Danny has the chameleon-like ability to blend into almost any musical situation and has appeared with many top performers of Bluegrass, Old-time, Swing, Jazz, Blues, Rock, Folk, Latin, Country, Irish, Americana, and World Music
Tom Schroeder is an internationally recognized author, instructor and performer on the autoharp. Thousands of autoharp players have read Tom's instructional articles and play his published musical arrangements. For over thirty years he has regularly contributed instructional articles in: The Autoharp Quarterly Magazine, The Autoharp Clearinghouse Magazine, and The Autoharpoholic Magazine. He is the author of four books of music for the autoharp. He is also the author of the autoharp section in AMERICAN FOLKLORE: An Encyclopedia (1996 Garland Publishing). As a performer and teacher, Tom has been referred to as "a master of the autoharp." Tom's dynamic playing style can be heard on his YouTube Channel, "TSchroeder Autoharp". It can also be heard on his recording, An Artistic Autoharp, where he plays solo and with the American/Celtic group, Calliope. He is a two-time winner of The International Autoharp Contest. Tom performs and teaches at major festivals throughout the United States. With Charles Whitmer, he has organized the Midwest Autoharp Academy. He has taught the autoharp in the Kansas City Area for over 30 years. His beginning, intermediate and advanced students have gone on to win the International, National and Mountain Laurel autoharp contests. In 2017 he was inducted into the Autoharp Hall of Fame.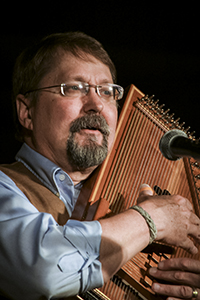 Rick Fitzgerald is a self-taught folksinger/songwriter, and is a mechanical engineer from Franklin, Wisconsin. An accomplished 6- and 12-string guitar player, he grew up influenced by the music of people like Peter, Paul & Mary, The Kingston Trio, and John Denver. He took up the autoharp in 1977 after seeing Bryan Bowers perform. Almost immediately, Rick bought a 'harp, began tweaking it to emulate "that sound" and soon arrived at a diatonic layout with fewer chord bars and doubled strings. He primarily played and sang for his own amusement until 1999, when he attended a workshop at the Warrenville Folk Festival, where it was again Bryan Bowers who introduced him to the wider world of autoharp players through the Autoharp Quarterly magazine, luthier George Orthey, and the Mountain Laurel Autoharp Gathering. Rick attended his first MLAG in 2005, absorbing the workshops and sitting in on jams with other musicians for the first time since college days. He entered the MLAG contest as a way of challenging himself to improve as a player. Four years later he was the 2009 Mountain Laurel Autoharp Champion.
When not working or performing, Rick volunteers his time as an educator, deckhand, and sometimes musician, aboard Wisconsin's own tall ship, the schooner S/V Denis Sullivan. He also serves on the board of directors for the Mountain Laurel Autoharp Gathering, and is chairman of the Make Our Own (MOO) Music Gathering, a 501(c)(3) organization dedicated to teaching and preserving acoustic "living room music" in the American folk tradition.
Rick is known for his rhythmic, diatonic playing style. He has recorded two CDs, Living Up to a Dream and Crossing the Water. He teaches privately and has taught at festivals around the country, including the MOO Music Gathering, MLAG, Buckeye Dulcimer Festival, and the Northwest Autoharp Gathering.
He and his wife Erina have two grown sons and a lovely granddaughter. They also raise and show Great Pyrenees dogs.
Bob Lewis of South Carolina has played autoharp since 1975, been asked to judge contests a number of times, and performed at several festivals. Most recently he has performed locally with a group called Heart Strings. At MLAG, Bob has been a featured performer in 1993 and 2009 and has also performed there with such luminaries as Carole Outwater, Bryan Bowers, Drew Smith, Lucille Reilly, and Patsy Stoneman. He was the Mountain Laurel Champion in 1992 and the Winfield Champion in 1996. However, he considers a greater accomplishment the fact that he has helped many people with their autoharps through 20 years of his online presence as Autoharp Works.  Bob's playing is centered on being a proponent of open note playing on both diatonic and chromatic autoharps and of practical tuning systems and string schedules for the best sound. He has supported a number of luthiers using string schedule software he developed in the late 1980s. A noteworthy accomplishment is happening upon a spring manufacturer who developed a light action spring for me and which is widely used today, now distributed by Greg Schreiber through a number of dealers. Lastly, Bob built two of the instruments with which he performs. The rest are Oscar Schmidt Festival or Centurion models from US production in 1979-83. Bob has enjoyed and respected a number of luthier-built autoharps but is continually drawn to the less stringy sound of the old classics in solid woods, admitting that luthier builds typically seem to project and record better than the model B instruments.  Bob's recordings include the 1990 Galax contest collection, duets with Carole Outwater on her "Faces" album, the three-CD Autoharp Legacy recording, MLAG collections, and his own YouTube channel.

Allison Guinn is an actor, singer and autoharpist originally from Erwin, Tennessee, in the heart of Appalachia. Her love of folk, country, and old-time music came from her Granny Daisy Dean Erwin, who taught her about singing and being funny.  Allison has been lucky enough to make it to the "Great White Way" with the Broadway productions of "Hair " in 2009 and "On The Town" in 2014.  She's been on television a bit too with "Inside Amy Schumer," "The Knick," "Boardwalk Empire," and "Divorce".  She most recently has been touring North America with Les Miserables playing the infamous "Madame Thenardier".  For more information, check out her web site.
Michael E. Poole
is a native of North Carolina, lives in Chapel Hill, N.C., and is a recently-retired Physician Associate. As an autoharp player, he is self-taught in both the chromatic and diatonic styles but was mentored by many wonderful players. His autoharp experience began with playing on the street and then, in 2000, he began competing at local festivals, such as Fiddlers' Grove, Mt. Airy, and Historic Happy Valley. He has attended MLAG since 2005 and participates in the competition each year. Michael is the 2018 MLAG Champion. At the Walnut Valley Festival in Winfield, Kansas, he placed third in the 2017 International Autoharp Competition. His playing style is appreciated for its flowing diatonic arrangements, open note accuracy, musicality, and expression. In 2013, he was awarded the Cohen/Grappel Recording Endowment grant and recorded his CD, Beneath Still Waters. In 2018, he accepted the position of registrar for MLAG. He is a founding member of the Triangle Autoharp Circle based in the Raleigh area and has taught private students for ten years.