Ron Wall has been a strong supporter of the autoharp community for many years, as a player, a producer, and an innovator of the instrument. The development of his personal style of bare-fingered open noting has amazed listeners for decades, and together with his singing and songwriting skills, make him a delight to hear. He last performed at MLAG in 2015, and this will be his fifth appearance as a featured performer.
Ron has taken the autoharp into the world at large with his many well-known commercial recording projects featuring acoustical instruments, such as the "Old-Time Gathering" and "Smoky Mountain" recording series he produced. In 2002 his ambition, drive, and support brought into being the legendary "Autoharp Legacy" 3-CD set featuring over 50 autoharp players from around the world in solo and duet formats.
Ron's design of his Mountain Harp in the early 2000s is one of the few modern re-workings of autoharp construction. Tailored to sound best when played bare-fingered, and using guitar string gauges, it is sought after by players who value its unique timbre.
He helped initiate the Autoharp Jamboree at the Ozark Folk Center in Mountain View, Arkansas, and the Walnut Valley Festival in Winfield, Kansas, where he became the International Autoharp Champion in 1994. He has also lent support in many ways to MLAG and other autoharp festivals past and present.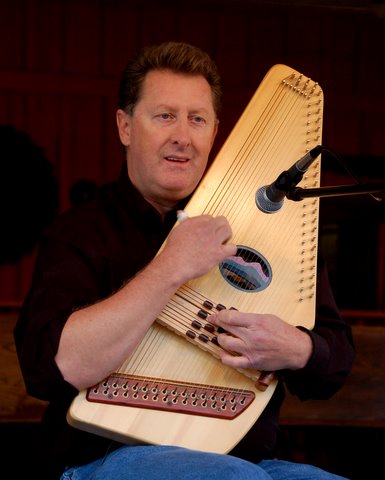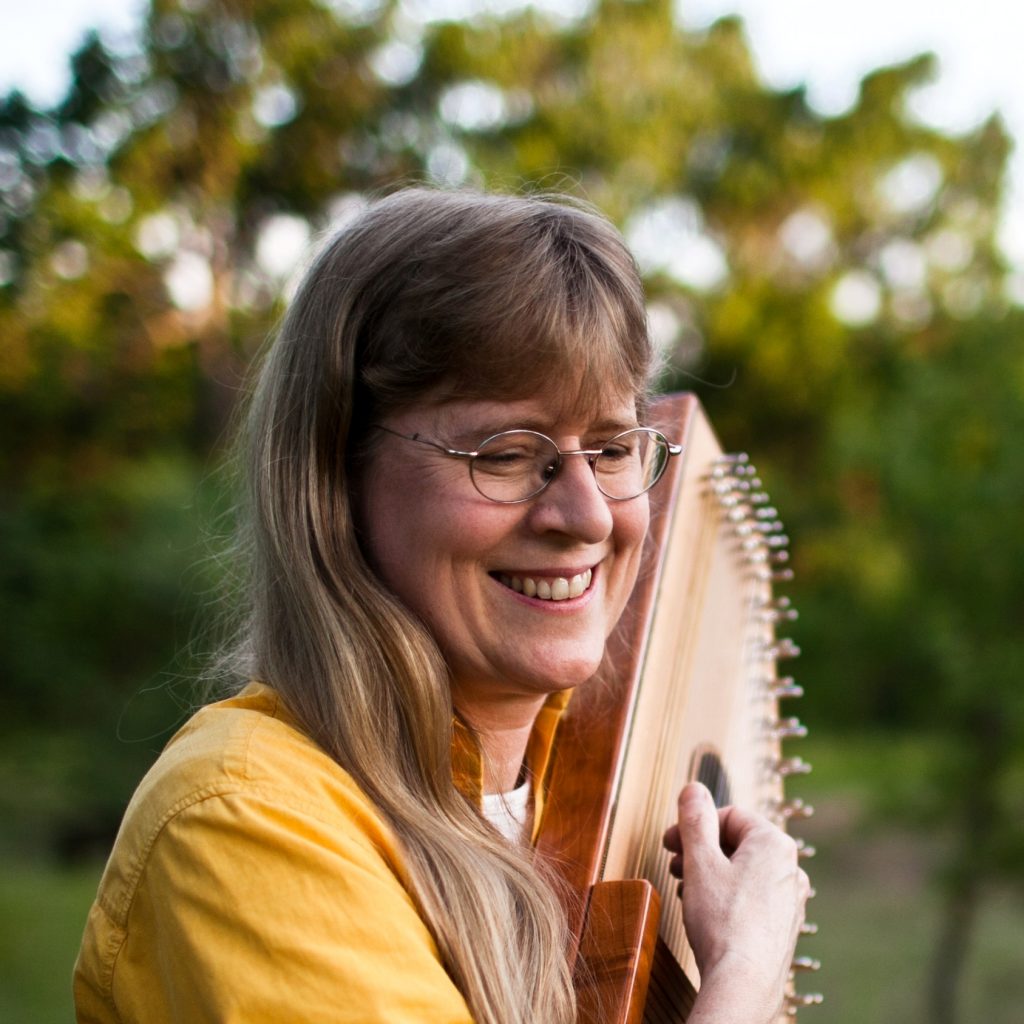 Karen Mueller is one of the top autoharp players today, and her performances amaze, engage and uplift audiences wherever she plays. Based in Minnesota, she tours nationally and in England, has released six critically-lauded solo recordings, and published three instructional books. Karen's repertoire ranges from traditional old-time and Celtic to contemporary music, all woven together with expert musicianship. She has won the International Autoharp Championship (1986), and been inducted into the Autoharp Hall of Fame (2006). Besides her groundbreaking work with the autoharp, she also performs, teachers and records on the dulcimer, mandolin, guitar, bouzouki, and ukulele. A committed educator, Karen is in constant demand as a private instructor, workshop leader, and school residency artist. Since 2000, Karen has also performed with Katie McMahon, the original lead singer of Riverdance, and serves as bandleader for shows and tours.
A native of Winfield, Kansas, she first attended the Walnut Valley Festival there while in high school in the late 1970s and was inspired to learn to play the autoharp by the performers she saw there. She was an early adopter of diatonic tunings, and of Ron Wall's open chording style after seeing him demonstrate it in a workshop. She began teaching at national venues such as the Augusta Heritage Center in West Virginia and Chicago's Old Town School of Folk Music in 1987.  Today she remains active at events and venues such as Seattle Autoharp Week, the California Autoharp Gathering, England's Sore Fingers Week, and the Ozark Folk Center.
Karen has been a recipient of the prestigious McKnight Artist Fellowship for Performing Musicians, a top honor for Minnesota musicians of all genres. In 2000, the Minnesota Bluegrass and Old-Time Music Association awarded Karen its "Recognition of Excellence," and she has received the Minneapolis Arts Commission's "Special Award for Outstanding Contribution to the Arts in Community" for work with older adults. Karen has also performed as a featured soloist with several Minnesota orchestras, on both the autoharp and dulcimer.
Les Gustafson-Zook, from Goshen, Indiana, is a popular autoharp instructor, performer and multi-instrumentalist at festivals and music schools across the U.S. since 1990. He's an engaging entertainer, having performed in elementary schools for over 20 years introducing traditional instruments and music to multi-generation audiences with a presentation of "Songs of the Pioneers." More recently, Les has been performing with a variety of homemade novelty instruments, bringing smiles and intrigue to all ages. Les is the 2001 and 2018 International Autoharp Champion at Winfield, Kansas, as well as the 1989 National Autoharp Champion. In 2014 he was inducted into the Autoharp Hall of Fame.
He has taught at Augusta Heritage Center, John C. Campbell Folk School, Kentucky Music Week, Mountain Laurel Autoharp Gathering, Walnut Valley Festival, Sore Fingers Summer School, and many other festivals across the U.S. He is known for his patient, clear and encouraging teaching style, his fast, clean picking of fiddle tunes, his energetic performance, and for his creative arrangements of hymns, waltzes and Christmas carols.
Les has recorded six CDs, is a core member of a contradance band called Band 'o Goshen, and often performs with his wife, Gwen. When not doing music, Les works for Mennonite Central Committee (mcc.org), an international relief, development and peacemaking organization, and volunteers with Chain Reaction Bicycle Shop, a non-profit Community Bicycle Organization (crbp.org).
​
Ivan Stiles is known in autoharp circles across the country as an autoharpist of unique ability; not just as a performer, but also as a recording artist, instructor, author, and co-founder and co-editor of Autoharp Quarterly® magazine from 1988 until 1997.
A member of the Autoharp Hall of Fame since 2000, Ivan Stiles brings a unique blend of traditional to contemporary music in the folk tradition to his audiences. Intricate fiddle-speed tunes, old-time favorites, traditional ballads, and original songs are skillfully interpreted on the autoharp, mountain dulcimer, bowed psaltery, and musical saw. At the competition level, Ivan won the 2006 Mountain Laurel Autoharp Championship, the 1991 International Autoharp Championship, the 1987 World Autoharp Championship, and the 1985 Great Lakes Regional Championship.
In 2018, Ivan joined with Chuck Kupferschmidt to form the musical duo, Acoustic Coots. Chuck adds the guitar, banjo, mandolin, and fiddle to the mix.
He has five recordings: Rounding Pickering Bend, Pickin' On The Porch, Promises Kept, and Lordy Me! featuring the autoharp, and Pennsylvania Sawyer featuring the musical saw. He also has authored a book, Jigs and Reels For The Autoharp. Stiles is also included on Autoharp Legacy and Music From Autoharp Quarterly® Vol. 1, 2, and 3.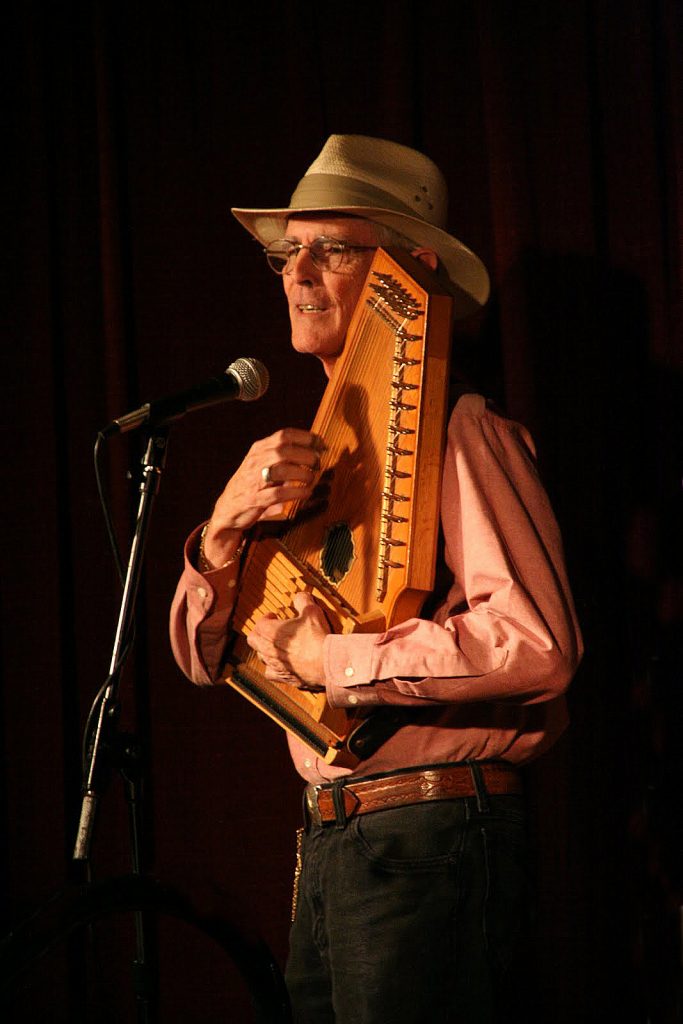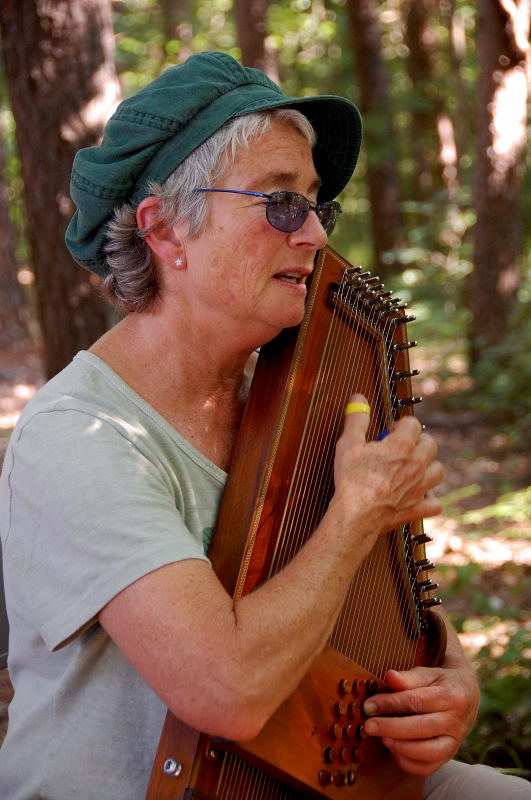 June Maugery grew up in Massachusetts, the oldest of seven children in a family that enjoyed and supported musical endeavors. After discovering the autoharp in the late 1970s, she was enchanted by its sound, terming it "harmony heaven," and the rest is history.
June's most influential mentor was the late Marty Schuman, who encouraged her to expand her style to what we enjoy hearing from her today – a wide range of genres, from graceful songs to driving fiddle tunes. She enjoys jamming, especially at night, usually providing a harmony line, either on autoharp or vocals. A familiar face at MLAG, the Swannanoa Gathering in North Carolina, and many other musical festivals, she enjoys getting together with other musical partners in duos or band situations.
June lives in France with her husband Bernard, but spends much time each year in the U.S. visiting relatives and playing music. She was the 1997 Mountain Laurel Autoharp Champion and has released two recordings, her own "Shining Bright Like Gold" and "Going Down the Valley" in collaboration with Mike Fenton. This is June's fourth time on the MLAG stage as a featured performer.
Originating in Pittsburgh, Pennsylvania, GrayScale ContraBand plays lively non-traditional arrangements of traditional and modern Appalachian fiddle tunes for contradancing and American square dancing. Their skills earned them a slot in the finals of the Non-Traditional String Band Competition at the 2018 Appalachian String Band Festival in Clifftop, West Virginia. And they'll be performing at the 2020 Illawarra Folk Festival and other locations "down under" before arriving at MLAG in June.
Cindy Harris (2019 MLAG Champion) has been making music with piano, fiddle, autoharp, bass and since she was knee high to a grasshopper. She took up autoharp at age 40, and 20 years later became the 2017 International Autoharp Champion. Well known as a teacher and workshop leader, she is also a long-time contradancer, a skilled caller of contras and squares, and plays old time West Virginia fiddle tunes. Her passion for dance led to a long-term interest in dance music, and the rest is history.
Gray Buchanan (fiddle) is the most amazing young fiddler in Pittsburgh. Gray attended the Pittsburgh Creative and Performing Arts high school, where she gained incredible skills and dazzled thousands with her vocal expertise and enthusiastic contradancing. She also a member of the Appalachian Ensemble at Davis and Elkins College in Elkins, WV.
Chris Hollingshead (harmonica) grew up playing tuba in the band and singing bass in the chorus. He started playing harmonica when he was 18 and is now 61 but life interrupted a lot. He plays almost every day now thanks to our music scene and sings with The Meeting House Harmonizers. He is also a member of contradance band Senior Moment and plays harmony on bass recorder for hymn singing gatherings.
Mitch Hall (bass) is most often seen jamming with a banjo in his hands, but he holds down the rhythm end of GrayScale. He's also a fan of old-time songs and leads for us whenever possible.