A warm hello from your Festival Director to longtime Mountain Laurel Autoharp Gathering attendees and those who were looking forward to their first experience with us this very week. We had intended to welcome you with some very special festivities to mark the milestone of our 30th Gathering but it was not to be. The COVID threat descended upon us with such swiftness and severity that we even had to cancel the belated mid-March meeting at which we intended to discuss the need to cancel the festival. Instead, we became early adopters of Zoom technology and acceded to the reality that superspread situations had to be foregone.

On the positive side, all our markers remain in place for 2021. We still have Little Buffalo, all the slated performers will be there, and all the other support structure will also carry over. It will still be the same 30th Mountain Laurel Autoharp Gathering, just in a different year. Even T-shirt changes were minor. We considered the ethical policy was to issue refunds instead of holding on to your money but registration will be back up this fall and we want to see all your cheerful faces.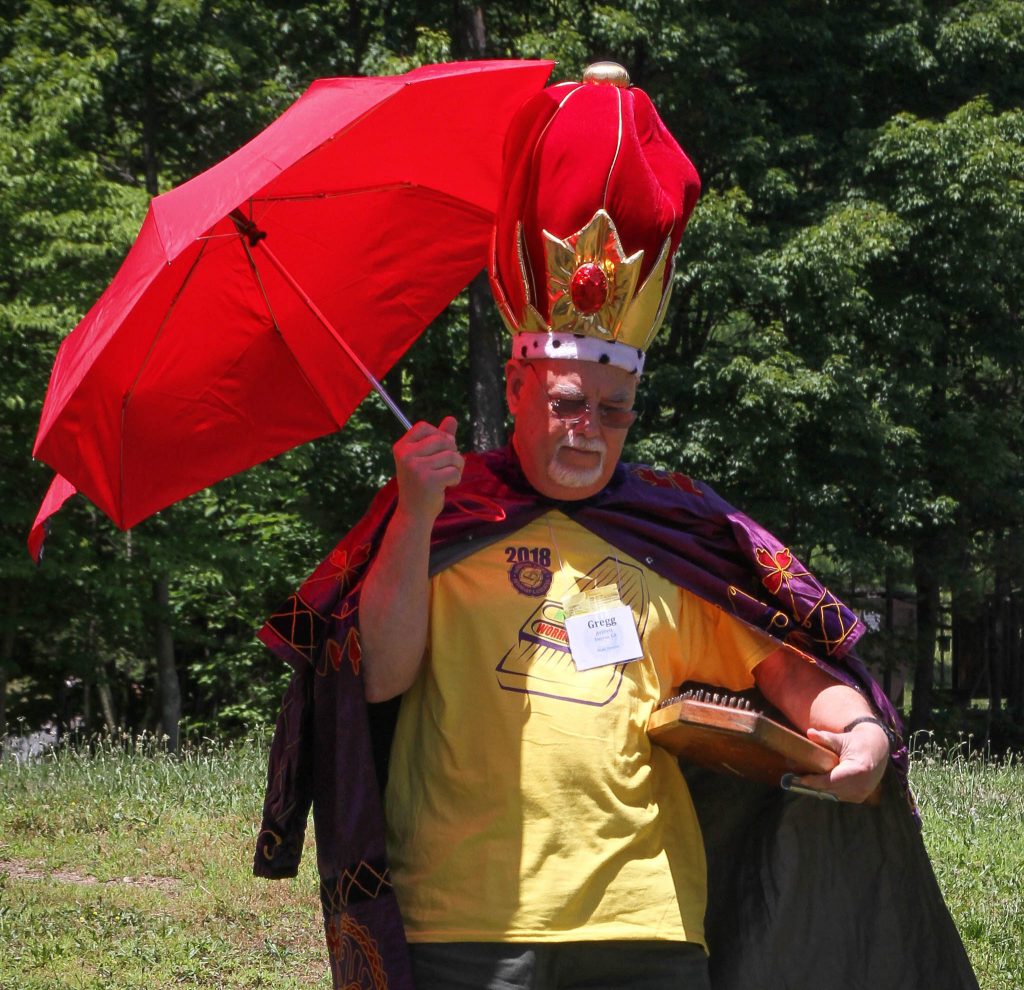 Meanwhile, in lieu of being at the campground this year, may I invite you to visit the MLAG Videos/Photos page  and YouTube site  to rediscover and relive memories captured from our previous Gatherings. There's a good bit of hilarity, even more nostalgia, and a ton of entertainment to cheer your isolated psyche as we all await our vaccinations.
As the (then, still-scheduled) big doings of this summer grew closer, I started looking back at those thirty years of my own participation—ten as an attendee, fifteen as Assistant Director, and the last five as Director—and realized there was a kind of round milestone there, in addition to the Gathering's. As reluctant as I was to initially take on the position of Director, I'm now loath to leave it but…leave it I have.
This seemed like a suitable occasion to hand off leadership to some new blood with a different touch and perspective. I will admit the scenario in my mind was a dramatic announcement from the Mountain Laurel stage on Saturday night, couched among some undoubtedly witty yet modest remarks, followed by introduction of the new Director, to great drama. Instead, this communique on what would have been our opening day will have to do.
I'm stepping down but not off the board. I will likely take up the duties of long-faithful Warren Fisher, who resigned at the beginning of the year, and, for sure, the Grand Poobah will continue to reign supreme and appropriate salaams and ring-kissing will continue as before. In the course of those happy labors I will, now, have the distinct pleasure of working alongside (at a social distance) Pete Daigle, whom we have recently welcomed onto the board. Additionally, Greg Schreiber has assumed the executive position of Assistant Director, in addition to his current duties as overall grounds supervisor.
Before I exit for the wings I want to take this opportunity to thank all of you for your unflagging support in helping make and keep the Gathering a treasured reality. Without your enthusiastic participation and willing volunteerism we could not possibly pull off such an event, year after year.
I would, especially, like to thank my fellow board members who have been so supportive in every phase of their own duties and mine. Whatever I managed to accomplish in my tenure, it could not have been possible without their unstinting and unselfish help and encouragement. Thanks largely to them, I can look back at my time as Director as one of the rewarding accomplishments in my life.
Another great source of pride is to reveal the identity of my newly-elected successor. I will say that I couldn't be more proud of the board's wisdom nor could I be more confident that you will agree with their choice. Given the demographics in our community, the note of change in the air, and the simple fact of the new Director's sterling qualifications, sensibilities, and experience, I am honored to announce your new Mountain Laurel Autoharp Gathering Festival Director is … Kathie Hollandsworth!
Sincerest thanks to all,
Gregg